Barrel cooper Pete Coates making furniture in St Asaph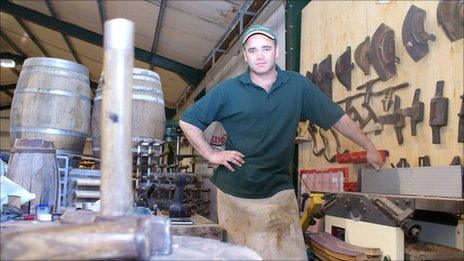 "I almost sold my tools on an online auction," confesses Pete Coates, one of just a handful of qualified brewery coopers left in Britain.
"Money was tight, and I was genuinely going to sell them - I'm so glad I didn't."
Instead of hitting the sell button on his computer keyboard, the memories of using the tools he first picked up as a teenage apprentice changed his life.
"I had ended up in north Wales working in a car factory on shifts for 11 years, which as you could imagine wasn't the best," explained the 37-year-old.
"It was just a daily routine. I detested it basically, and I had wanted out for quite a while."
So when he was offered voluntary redundancy from Deeside's Toyota factory in Flintshire last year, he jumped at a chance to return to the trade he really loved - the art of the brewery cooper.
Using money from his redundancy package, he has set himself up back in the cooper business at a workshop in St Asaph, Denbighshire.
He believes he is one of only a handful of qualified brewery coopers left in the UK.
"I'm a hands-on person, I knew I was good at what I did, plus there is the rarity of it, I suppose. It was good to get back into it."
He started in the barrel business when he was 16 and living in Yorkshire, working for a well-known brewery, and making barrels from scratch.
But the advent of the aluminium keg in the 1960s and 70s meant there was never going to be a large commercial future in wooden beer barrels.
"It gradually wiped the wooden trade out of the system," he said.
"If you've got wooden barrels in the system, you need a cooper to maintain them, so you've got a double cost.
"They do get damaged, beer barrels. They are not sat on a gantry for 10 years, they are dropped down cellars and off wagons weekly.
"They can come back in some dire, dire states."
He knew he was not about to start a revival in the wooden cask industry when he invested his life savings in his new venture, Oak Barrel Creations.
But he was certain he could take his cooper skills, barrels themselves, and turn them into something people still want - bespoke furniture.
"The way I look at it, there is always someone out there with money. There is a market for everything - somewhere," he insisted.
He is now taking traditional wooden barrels imported from France and Spain, and resculpting them into new items, from stools and tables, candlesticks and dog baskets, all the way to new barrels and wooden casks.
"Basically, I can do anything anyone could think to make with a barrel.
"The barrel itself is like a chocolate orange, if you tap it, it will just fall apart once its hoops have been taken off.
"From the staves, you can then make almost anything."
"Hopefully, I've got a slot in the market because of what I do. It is unique, it is rare, it is handmade."
But it is not just about keeping himself in business, it is also about the tradition of the brewery cooper.
"I'd like to get to the position where I could maybe get funding to take an apprentice on and keep it alive hopefully, because it is a dying art," he added.
You can hear more about Pete Coates on the Wales@Work programme on BBC Radio Wales on Monday, at 1900 GMT. The programme will also look at the use of social media by businesses.
Related Internet Links
The BBC is not responsible for the content of external sites.