Rhyl Skytower future in doubt over £400,000 repair bill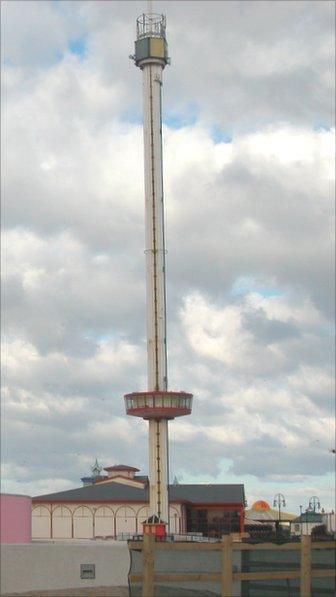 The future of Rhyl's landmark Skytower is in doubt after a safety report found £400,000 of repairs are needed.
The company which runs the tourist attraction on behalf of Denbighshire council asked for the report after coming to the end of its 10-year lease.
It found that the "weather has taken its toll" on the rotating observation tower which stands on the seafront.
It remains closed as Denbighshire council consider "viable" options.
While the structure "has not been condemned", it does need investment, according to Denbighshire councillor Glyn Williams, chair of Clwyd Leisure which runs the attraction.
The tower which stands 73m (240ft) on the promenade next to the Apollo cinema was last used at the end of the 2010 summer season.
The cinema is now closed as part of a £1.2m redevelopment which includes an outdoor screen.
"They don't want something next door that is unkempt," said Mr Williams.
Bethan Jones, Denbighshire council corporate director for business transformation and regeneration, said the tower's future was, as yet, undecided due to the costs involved.
"In view of this, the developments at the Apollo and the discussions on the future direction of the leisure offer in Rhyl as part of the town's regeneration, we are unable at this stage to determine the best way forward for the Skytower.
"Unfortunately the elements have played their part in the deterioration of the structure and given the sums of money involved, and the current difficulty in accessing public sector funding, we do need to take an overall view on how we will be able to sustain and develop the leisure attractions on offer in Rhyl."
The tower, which charges £2 a ride, was brought to Rhyl from Glasgow in 1993.
Related Internet Links
The BBC is not responsible for the content of external sites.