Wards at Wrexham Maelor reopen after norovirus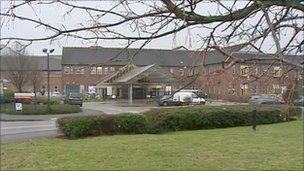 All wards at Wrexham Maelor Hospital reopened on Saturday afternoon following closures due to norovirus.
A hospital spokesperson said staff on Saturday finished off checking wards but no new cases had been reported.
It was confirmed on Friday that if no new cases appeared, wards would be reopened to new admissions.
Sixty-six patients and 10 staff have been affected in total. Restrictions on visiting patients were also being lifted on Saturday afternoon.
A hospital spokesperson said: "We're just finishing off checking the wards and there's been no new cases reported do we will be fully operational from this afternoon [Saturday]."
Restrictions have also been lifted at Chirk and Mold Community Hospitals where three wards had been shut.
Of the total cases, 25 were at Llandudno General Hospital on the Aberconwy and Llewelyn wards, which still have restrictions in place and seven were at Ysbyty Gwynedd in Bangor.
A total of 62 patients are still suffering but as no new cases have been diagnosed since Monday, the health board is hoping to push ahead with lifting most restrictions.
A spokesman for Betsi Cadwaladr University Health Board said the outbreak had "reduced considerably" over the last two days.
But the illness is still circulating in the community and people who have experienced diarrhoea and vomiting are urged not to visit until 48 hours after their symptoms have cleared up.
The main symptoms of norovirus infection are sudden nausea, stomach ache followed by severe "projectile" vomiting and or diarrhoea.
Symptoms usually begin between 12 and 48 hours after a person becomes infected, said officials.
Related Internet Links
The BBC is not responsible for the content of external sites.