Whitford sphereing company will appeal if turned down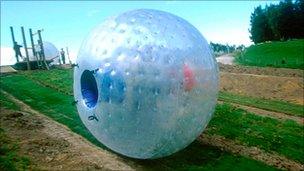 A company says it will appeal if its adventure sport known as "sphereing" is refused permission to continue.
Also known as "zorbing", it involves rolling down a hill in large ball.
The British Horse Society says it will scare horses, and so endanger riders, on the bridleway next door to the site at Bryn Coch Farm in Whitford, near Holywell, Flintshire.
Have You Got the Ball Limited says it is seasonal, and could bring thousands of pounds into the area.
Planners are being recommended to reject the retrospective planning application.
According to the firm, about 2,000 people have already visited the site, which is one of 14 it runs.
The British Horse Society, which has lodged an objection, said in the planning report: "The bridleway is very well used and local people have fought long and hard to establish it.
"Bearing in mind that horses are prey animals whose only defence is flight and who have all-round vision and extremely acute hearing, it is believed they would be absolutely terrified by this activity taking place anywhere in that field.
"As a result the application must be opposed."
However, the application has won backing in the same report from Flintshire council's tourism manager, David Evans, who said sphereing would be a new and innovative attraction in the area.
Related Internet Links
The BBC is not responsible for the content of external sites.