Wrexham FC winding-up petition over £200,000 HMRC debt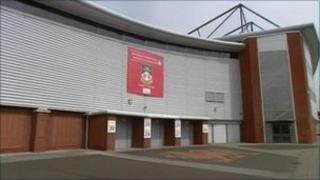 Wrexham FC have been issued with a winding-up petition by Her Majesty's Revenue and Customs.
A statement on the club's website says they owe HMRC "just under £200,000" and that they are doing all they can to secure the future of the club.
The club, which remains for sale, says it needs gates of 4,000 to survive.
Last month Wrexham FC Supporters' Trust (WST) said it had joined forces with businesswoman Stephanie Booth, to work on a joint bid to buy the club.
Earlier, ex-footballer Ashley Ward withdrew his bid.
Meanwhile, businessman Stephen Cleeve has outlined his interest to fans on the Red Passion website.
The club said in a statement it wanted to assure its supporters and business partners that despite the development, the owners were doing "everything within their powers to secure the future of the club".
"That HMRC should take this action at all is a source of great disappointment and frustration, when offers to honour our commitment over a period to the Revenue have been rejected out of hand.
"The club 'holds its hands up' in full acceptance that this situation has been allowed to escalate, and realises that football clubs in general understand that there now exists something of a zero tolerance relationship between them and HMRC.
"But as already mentioned, Wrexham Football Club, through keeping channels of communication open at all times, have tabled a number of proposals to resolve this issue."
The club said attendances had increased of late but crowds of around 4,000 were needed "to have a chance of meeting its current budget".
"Cash flow problems are a constant headache in the running of the club," added the statement.
Owners called for fans to show their "valued support" for the remaining two fixtures, starting with Saturday's home fixture against Kettering in the Blue Square Bet Premier.
"If the club were able to access a funding pot to clear that debt, then the club's future could be secured at a stroke," said the statement.
Talks with prospective parties to buy the club are continuing.
'No plans to walk away'
Ms Booth said she was just weeks away from submitting a completed offer.
She added the only way of saving Wrexham FC (WFC) was for the "Wrexham supporters' trusts to invest their £378,000 now".
"This money was raised from hundreds of fans specifically to invest in WFC and now is the time for them to do so," she said.
"Failure to do so now will almost certainly result in WFC being wound up."
She said she had "no plans to walk away" and it was still her intention to "deliver WFC into community ownership to ensure that the Racecourse Stadium is saved for the people of Wrexham".
She added it was "a valued asset for use by the whole community and not just for 3,000 football fans, although the football club and the Crusaders will continue to have use of this unique local venue".