Wrexham fans change trust constitution to help club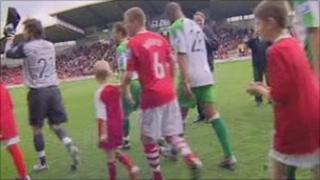 Members of Wrexham Supporters' Trust have voted unanimously to approve two changes to its constitution.
It means the fans can speed up their efforts to back the football club as it faces a £200,000 winding-up petition.
Members voted to adopt a template to assess potential bids to the club, and also reduce the time needed to call an AGM from 14 to seven days.
Terry Heath from the trust said things were moving so quickly they needed to be able to respond.
The money is needed as Her Majesty's Revenue and Customs (HMRC) is trying to recoup a tax bill.
The decision to change the constitution was taken during a special general meeting of the trust on Monday.
Speaking during a break in proceedings, Mr Heath said the meeting would not directly be talking about the winding up order, because that matter would need to go before the AGM.
He added the meeting was good, but there was concern and confusion as people did not know what to believe about what was happening at the club.
On Monday it was reported that some members held a "constructive" meeting with one of the club's owners, Geoff Moss, before Saturday's 2-0 home win against Kettering, which puts the team in a play-off position with one match to go.
Another potential bidder, businesswoman Stephanie Booth, has called on the supporters' trust to cover the club's tax bill with part of the £378,000 it has already raised.
But some fans are unhappy, saying it should be up to the current owners to foot the bill.
A statement on the club's website said: "If the club were able to access a funding pot to clear that debt, then the club's future could be secured at a stroke.
"The club relies on its supporters paying at the turnstiles, with the owners having had to provide significant funds to retain a competitive first team budget."