RAF man David Jones 'killed by drink driver' in Cyprus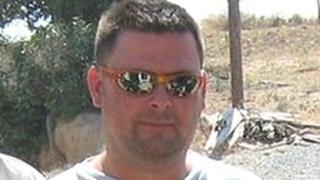 A 37-year-old RAF corporal from Denbigh died in Cyprus after being hit by a car driven by a 77-year-old drink-driver, an inquest has been told.
The inquest in Llandudno, Conwy, heard how Cpl David Jones was killed on his motorcycle near Paphos in January 2010.
Acting coroner John Gittins said a Cyprus police document showed the accident was the fault of a local man twice over the alcohol limit.
A verdict of accidental death was recorded.
Cpl Jones's mother Mrs Frances Jones told the inquest he enjoyed the RAF which he had joined before his 18th birthday.
He served in several countries including Iraq as well as Cyprus, and had been due to go to the Falklands.
Mr Gittins said the driver had been charged by the Cypriot authorities with drink driving, unintentionally causing death and other motoring offences. The outcome of prosecutions was not known.
"His death is very tragic but would have been instantaneous," said the coroner.