X-ray found needle in Denbigh boy's knee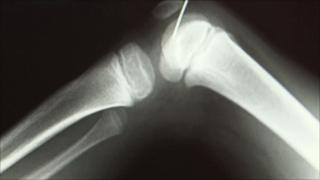 A mother had no idea her six-year-old son had knelt on a sewing needle, until it showed up embedded in his knee in an x-ray.
Meryl Pierce took Eben to hospital when he was "out of his mind in pain", unaware the needle had snapped in his leg.
Doctors removed the needle under general anaesthetic.
Eben has since held a coffee morning to raise money and say thank you to staff at Ysbyty Glan Clwyd in Bodelwyddan.
His mother said: "He was out of his mind in pain but we could not see anything because the needle had snapped off.
"We took him to hospital where they found the problem after an X-ray and carried out an operation under general anaesthetic.
"He stayed in overnight.
"When he first came to and was in bed he looked for something to read and found there were some, but not many, Welsh language books.
"He wanted to say thank you to the staff for being so kind to him and he thought he would like to raise money to buy Welsh language books for the children's ward."
After raising about £400, Eben bought books and will deliver them over Easter. Some of the money will also go to a cancer unit.
Eben's fundraising efforts are to feature in an S4C documentary, Y Diwrnod Mawr (My Big Day), which follows pre-school children during important events in their lives.
The series starts at 0750 BST on 25 April.