Toyota Deeside starts non-production days as output cut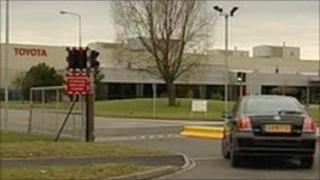 Workers at Toyota's Deeside factory will carry out training for the first in a series of non-production days on Thursday as the car maker cuts output.
The plan has been drawn up between company and union officials after supply problems caused by Japan's earthquake and tsunami.
Toyota, which employs 445 staff at Deeside, has announced more closures and non-production days throughout May.
The employees will be paid as normal on such days.
As part of the measures, workers will be given Fridays off in May on the understanding they will make up the time once the supply problems have been resolved.
Mondays will be used as more non-production days in May and volume will be reduced on Tuesday, Wednesdays and Thursday.
'Flexible working'
Last week, Toyota, announced that the vehicle factory in Burnaston, Derbyshire, and the Deeside engine plant would have a non-production day on 21 April.
Both sites will shut down on 22 April and remain closed for the three days between Easter Monday and the royal wedding public holiday on 29 April, returning to work on 3 May.
The company said the remaining non production time will be "utilised for continuous improvement and training activities" at both plants.
Toyota said the combination of this and flexible working arrangements will help "ensure that we are able to quickly respond to the demand for our products" as soon as parts are available.
Peter Hughes, senior regional officer for Unite union based in Flint, said it was a difficult time for staff as the order book was full but that the supply of parts was an issue.
He said there were hopes work would return to normal by the end of May, although there could be no guarantees.