Closure at Wrexham park after landfill pollutant leak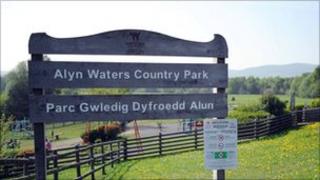 Part of Wrexham's largest country park will have to close after pollutants were found leaking from a former landfill site.
It makes up about 5% of Alyn Waters Country Park and was capped in 2001 but there is now evidence of leaching.
Wrexham council has warned residents the work could take two to three years to complete but said there is no risk to public or wildlife.
The eventual re-capping could cost up to £10m.
But if left, the council fears contamination of the River Alyn.
Tests show the cap is not working properly and rainwater is entering the site, producing higher than expected leachate levels.
The council said the leachate is removed regularly, but there is evidence it has "overtopped" into surrounding land at least once.
Of several options presented to the local authority's executive board, it decided the only "long-term sustainable solution" was to re-cap the site, which could cost between £1m-£10m.
Work will involve re-shaping the site to shed water more effectively, and installing a "geosynthetic capping layer over the existing clay".
The site - about 22 of approximately 400 acres - will be closed to the public, but the remainder will stay open.
Wrexham council said residents nearby had been informed by letter and liaison meetings will be held.
Sarah Evans, principal environment protection manager, said: "We appreciate that this news may cause concern to those living close to the park and regular visitors.
"We have undertaken to keep them informed and up to date as work progresses.
"We will also work closely with colleagues in the environment department and external advisors to safeguard the ecology of the area and to ensure the site is returned to its former state."
A contractor is now being sought.