Wrexham Supporters' Trust's £1m bid to buy club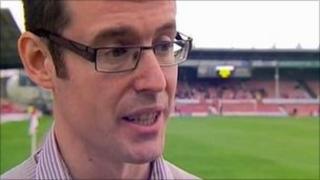 Wrexham Supporters' Trust is launching a £1m bid to buy the club in partnership with private investors and individual fans.
Fears for the future of the Conference outfit have been fuelled by a winding-up petition over a £200,000 tax bill.
The club's current owners have said they have no more money to invest.
The trust will call on fans to back plans to put the club into community ownership in a leaflet at Monday's game against Tamworth at the Racecourse.
The trust wants to acquire a majority shareholding in Wrexham FC (2006) Ltd, the legal entity which owns Wrexham Football Club, the Racecourse and Collier's Park.
It is encouraging private investors to invest in a joint bid to attract additional skills and experience, and plans to issue shares to supporters once the acquisition is complete.
The trust plans to present its business case to Wrexham FC owners Geoff Moss and Ian Roberts within the next week as the club faces a winding-up petition from Her Majesty's Revenue and Customs (HMRC) on 11 May.
WST chairman Richard Owen said it hoped the High Court would postpone the hearing to allow the trust to finalise its plans as it had done in the case of other clubs facing a similar fate.
"It is now or never for local businesses and supporters to dig deep to save Wrexham Football Club," he said.
Leading trust members plan to canvass fans for their support at the Tamworth game as they look to secure a place in the play-offs and the chance of a return to the Football League.
A public meeting will be arranged to allow fans and local businesses to discuss the proposal in more details.
In a statement on Wednesday, the club said its owners had already invested "millions of pounds" but "they do not have any further available funds".
Businesswoman Stephanie Booth and the trust have both been examining Wrexham FC's accounts with a view to taking it over but the club said no potential investors had yet been willing or able to commit to a deal.