Helpline for cancer sufferers launched in Wrexham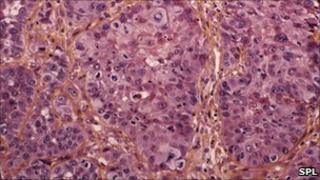 A telephone helpline for people affected by gastric and oesophageal cancer has been launched in Wrexham.
Macmillan Cancer Support claims its pilot scheme, called "Gutsy", is the first of its kind in Wales.
Available to people across north Wales, it has been set up by former cancer patients and aims to support people facing surgery.
Brian Lewin, the project's lead volunteer, said volunteers would "understand" patients' concerns.
Mr Lewin, 60, from Chester, Cheshire, was diagnosed with cancer five years ago and underwent surgery on his oesophagus, and had chemotherapy.
He said: "A cancer diagnosis is often a terrible shock.
"Patients then have to face a major operation that takes around 10 hours to complete.
"Not only do you have to contend with recovery from the surgery and chemotherapy but you also have to deal with a change in lifestyle.
"You have to modify the way you eat and what you eat so it is a big adjustment."
"We hold regular Gutsy group meetings but north Wales is a big area and it can be difficult for transport so a telephone support line made sense.
"Callers who are either facing or are recovering from surgery are put in touch with people who have been through the same treatment and so understand what they are going through."
The scheme is part of the Macmillan in Every Community project, which helps volunteers support people affected by cancer.
Patients can call the support line directly, but will also be referred by their nurse or doctor upon diagnosis.
Cath Lindley, general manager for Macmillan Cancer Support in Wales, said: "Everyone diagnosed with cancer in Wales should get the support they need when they want it but we know that this vital service is often based on where you live rather than need.
"The Macmillan Gutsy Telephone Support Scheme aims to provide a service that people affected by cancer in north Wales can access from home when they need it most."
Jonathon Pye, a consultant surgeon at Wrexham's Maelor Hospital, said: "This support line provides a vital role in preparing patients for their surgery and treatment, helping them deal with the emotional issues around their diagnosis.
"This type of cancer is the fifth most common type in the UK but it is often diagnosed too late.
"Anybody who is experiencing difficulty swallowing or regurgitates their food should see their GP."
The free support line, 0800 7076907, is available Monday to Friday, between 0900 and 1900.