Wrexham Football Club's £200,000 tax bill paid off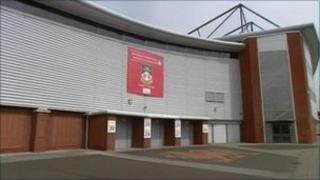 Wrexham Football Club's £200,000 tax bill has been paid off, clearing the way for the club to take part in the end-of-season promotion play-offs.
At a news conference at the Racecourse, it was announced the debt had been cleared through a combination of donations and loans.
It is understood Blue Square Bet Premier officials wanted to see the debt cleared before Wrexham compete in next week's games.
Wrexham are due to face Luton on 5 May.
The second leg will be played away a few days later.
The final will be played at the City of Manchester Stadium on 21 May with a place in the Football League at stake.
The combination of donations and loans which cleared the debt involve contributions from club chairman and co-owner Ian Roberts, former MP and AM John Marek - a candidate in next week's assembly elections - and an anonymous donor, who is a friend of co-owner Geoff Moss and the club itself.
Wrexham Supporters' Trust (WST) earlier this week launched a £1m bid to buy the club in partnership with private investors and individual fans.
But fears for the future of the Conference outfit have been fuelled by a winding-up petition over a £200,000 tax bill.
Dr Marek, who is understood to be providing a £50,000 interest-free loan, had said on Wednesday: "I'm providing a loan and several other people are doing the same.
"It's being sorted out today and it's just a matter of dotting the i's and crossing the t's before the money is paid over tomorrow [Thursday]."
Other assembly election candidates welcomed the development.
Bill Brereton the Liberal Democrat candidate for Wrexham said: "I'm happy to work alongside politicians of all parties and the community to ensure that the club survives. The Racecourse is an asset as an international stadium in Wrexham.
"All parties in the council have been working quietly behind the scenes towards maintaining the stadium."
'Quite achievable'
Labour candidate Lesley Griffiths said: "I am sure that every Wrexham supporter will be relieved if the current financial problems do not prevent the football Club proceeding to the playoffs.
"The players and management need to be able to concentrate on working towards playing league football next season, without too many distractions off the pitch."
Plaid Cymru candidate Marc Jones said: "I am very pleased the tax debt has been cleared, but it should never have come to this, especially at this late stage. "
He said it was now "more urgent for us to have proper community ownership of Wrexham Football Club...and that's why I'm backing the Wrexham Supporters' Trust's bid 100%".
The supporters' trust has been working on the wider ownerhip issue.
It called on fans to back plans to put the club into community ownership in a leaflet at Monday's game against Tamworth at Wrexham's Racecourse ground.
Terry Heath of the trust said: "We're making good progress and money is starting to come in quite well. It's not just the fans from the club itself, we're also inviting other people (to donate)."
Mr Heath said there was no reason why the club could not survive if it was run properly, but it needs gates of 4,000 per game to break even.
"That should not be beyond the pale, that should be quite achievable."