Two Wrexham teachers sacked over alleged 'manhandling'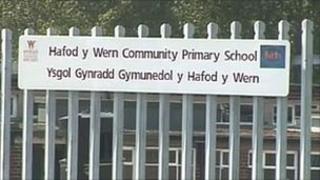 Two teachers have been sacked and two teaching assistants disciplined after allegations of pupil "manhandling" at a Wrexham primary school.
Action was taken after alleged incidents were filmed on CCTV at Hafod-y-Wern Community School in Caia Park.
Four people were immediately suspended, and two were later dismissed following a three-month investigation.
The dismissals were confirmed by the chair of governors Emlyn R Jones. Wrexham council declined to comment.
It is understood the school's head teacher, Simon Edwards, was not at school on the day the alleged incidents occurred.
An inquiry was launched after school governors referred the matter to Wrexham council.
Mr Jones said: "The matters referred to are still subject to appeal and, as such, I am not in a position to offer further comment.
"However, I am pleased to say the school continues to maintain the high standard of teaching and caring for its pupils as praised in the last report of the government inspectors.
"I pay a particular tribute to the leadership of the head teacher and to the commitment of the teachers and all who work hard to make Hafod-y-Wern school the success that it is.
"I know that the confidence of the governing body in the school is shared by the parents and the local community alike."
'Perverse decision'
A spokesman for the NUT in Wales confirmed that one of the teachers is a member of the union, but said he was unable to comment
"The matter is going through an appeal at the moment, so I'm unable to say anything."
Asked about alleged manhandling, he said: "I can confirm that this case has nothing to do with anything of a sexual nature.
"It involved a child being moved to a place of safety. In these circumstances, the NUT believe that the decision to dismiss was perverse."