Wrexham Industrial Estate £35m relief road due to start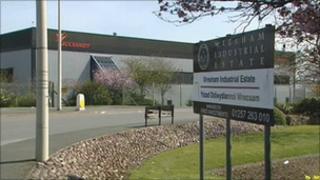 Work is due to start on a long awaited relief road serving Wrexham's sprawling industrial estate.
The road project is expected to cost about £35m and is due to open in 2012.
Councillors will hear later the county borough council plans to spend £16m on road improvements over the next 12 months, with £11m earmarked for the new road.
The industrial estate is regarded as one of the UK's biggest, home to 300 companies employing 7,000 workers.
Construction includes a dual carriageway serving the site as well as improved access at other junctions en route.
Work has been going on for some time in readiness for the "major" construction project to begin later this month and which is likely to cause some "disruption" from later this summer.
Tim Tindle, chair of Wrexham Industrial Estate Business Forum which represents over 200 businesses on the site, said members were "delighted" to hear work is due to start.
The project is being funded by the Welsh Assembly Government and its Taith Regional Transport Plan.
In a statement, Wrexham council said the investment in the dual carriageway link and an "easing of the pinch point" at nearby Cross Lanes, Marchwiel, is "key to the future development and expansion" of the site.
A report to Wrexham council's environment and regeneration scrutiny committee will hear that authority plans to spend £16.4m on road projects over the next year, £4.6m from its own funds and £11.8m in grants.
Other projects include £122,000 in designing "safe routes" to schools and £1.3m in road resurfacing due, in part, to last winter's weather conditions.
The report says: "It is anticipated that the impact of consecutive harsh winters will ensure that maintaining the integrity of the highways infrastructure will remain a priority for Wrexham into the future."