How the Royal Welsh offers support to families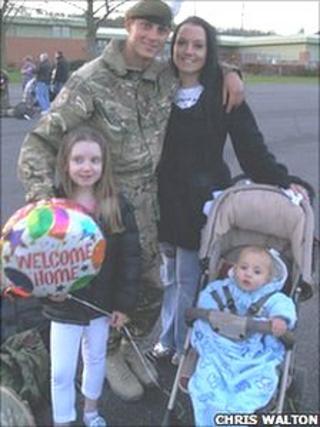 Gareth Jones, who has been on the frontline with Welsh soldiers in recent years, reports for the last piece of a Radio Wales series, While the Boys Are Away, on how their families cope when their loved ones go away to fight.
The 'Army WAGs', as they call themselves, have arrived at Lucknow Barracks, the home of Second Battalion the Royal Welsh, on the edge of Salisbury Plain.
Wives, girlfriends and children of soldiers are here for what is called 'The Blues Weekend', two days of morale-boosting activities.
Claire Busby, who's married to Bob, a lance corporal from Wrexham, has come with her daughter Tori-Jade, seven, and four-month-old baby Bobby-Wayne.
Claire said goodbye to her husband a month ago when he left for Afghanistan.
'It's been hard, very hard. Tori-Jade's been staying with my dad a lot because she didn't want to be at home without her daddy.
"She understands that it's a war and it's dangerous and she assumes the worst."
Rebecca Allen, wife of Pte Mike Allen from Newbridge, tells me: "I get about five nightmares a night now. It's the same one. I see Mike die …and I see the officers at the door. I'm on anti-depressants. It's a nightmare. One big nightmare."
Captain 'Mo' Moynihan, from Pontypridd, is the battalion's welfare officer.
He's organised the weekend and other events in the coming months to bring the wives together for mutual support.
"We call it a Blues Weekend because this is the fourth weekend the men have been away," he explains. "So it starts sinking in now."
Mo has been welfare officer for two years and over that time has seen three companies of Royal Welsh soldiers leave and come back.
By Christmas last year, 'B' Company had escaped any really serious casualties, so he was focused much more on domestic problems, like those that flared up in the Busby household.
Soldiers in a war zone and their families are better connected than ever today because of technology. Social networking sites are heavily used by soldiers to keep in touch with home, but L/Cpl Bob Busby's use of Facebook got him into big trouble with his wife Claire.
Mo flagged it up in his diary: "We've got a wife who's just found out her husband's been having an affair… most importantly the wife wants him back."
Claire was demanding Bob's return for a big showdown but Mo wasn't keen.
"If I allowed this, every soldier in the army would be trying the same thing to get a few days back with the missus," he told me.
In the end, Claire went over Captain Moynihan's head and got her way.
The army flew Bob home for a few days to sort out his marriage.
At their home in Tidworth, Bob looked fit, tanned but nervous and Claire was looking tired and pale.
"I've been a bit of a prat,' he told me. "I did stupid things."
It turned out Bob hadn't been having any affairs but had been sending messages to other women on Facebook.
"I thought the family, marriage, everything had gone to pot, but we've done a hell of a lot of talking …and he hasn't cheated on me," Claire said.
"If Bobby hadn't have come back there wouldn't have been a marriage because I couldn't have fought my way through another two and a half months of trying to care for myself and the kids and not knowing what was happening at the end of it."
'Huge strains'
Mo, however, took a dim view in his diary entry: "I have made it crystal clear to him… we have soldiers out there fighting the Taliban and his job is to be out there with the company and not back here sorting out trivial issues that could have been sorted out over the phone."
Bob returned to duty in Afghanistan, leaving everyone acknowledging that an operational tour can put huge strains on relationships, and that knowing how to respond is a matter of fine judgement for the army.
The day all the women had been longing for finally arrived in February.
On the parade ground at Lucknow Barracks hundreds gathered, waiting for the men of 'B' Company to arrive after seven months away. There were Welsh flags, inflatable leeks and daffodils.
I was with Claire Busby and her two children. They'd spent the morning making a banner which read "Welcome Home - our Hero, our World."
Claire could hardly contain her excitement; the Busbys' marital issues seemed to have been sidelined.
An army press officer on duty that day told me the Welsh have earned a reputation for impressive homecoming parades, turning out in force. I counted 17 people from Aberdare alone who'd come to welcome home just one lad.
The army conducts all its homecoming events with a great sense of theatre and panache. The soldiers don't just turn up and throw themselves into the arms of their loved ones.
'B' Company disembarked from their buses outside the barracks.
A sergeant informed the waiting women their men were just minutes away ,and then there was the deep rumble of a Warrior fighting vehicle and the sound of marching.
The Warrior emerged to the strains of 'Men of Harlech' on the PA system, followed by the men in desert combat and berets sporting the white 'hackle'.
The families whooped with delight as they caught sight of them but knew they had to stay put for a few minutes longer. 'B' Company now formed up in a long row.
Their 'officer commanding', Major Mark Beynon, said a few words of thanks to the crowd and then barked the command everyone had longed for since the previous July: "B 'Rorke's Drift' Company, to your families, fall out!"
Civvies and soldiers rushed to each other. Claire and Bob were one of the first couples to connect and there was a lot of crying. "Daddy's home, Tori! He's not a picture any more!"
I left them and dozens of other couples and families to enjoy their reunion.
The last in the three-part series While the Boys are Away is on BBC Radio Wales at 1900 BST on Monday, 9 May and again at 0530 on 13 May.