Wrexham Supporters' Trust reveal Wrexham FC buy-out bid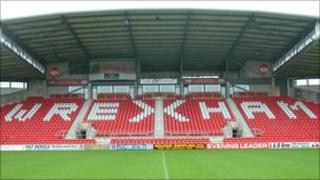 Wrexham Supporters' Trust (WST) have revealed details about their bid to buy the football club.
It comes a day after north east Wales hotelier Stephanie Booth announced she was pulling out of a buy-out bid.
WST says it has lodged an outline bid with one of the current owners, Geoff Moss, and says it feels "buoyed" by the response of supporters.
Meanwhile, Wrexham MP Ian Lucas and AM Lesley Griffiths have given their backing to the trust.
The developments come in a disappointing week for the club, which had hoped to win back its Football League status but lost in the promotion play-off semi-finals to Luton Town.
Since launching an appeal for supporters to get involved, WST has secured pledges of more than £200,000, on top of the £400,000 it has in the bank.
Despite talks with other interested parties, like the former Shrewsbury Town chief executive Colin Poole, and London businessman Stephen Cleeve, the WST outline bid is solely in its name - subject to membership approval at a meeting next week.
Revealing its "roadmap" in a statement on Thursday, the trust said priorities include securing finances for next season, giving "majority ownership of the club and its assets back to the community".
Trust chairman Richard Owen said: "This season has been full of twists and turns, like no other.
"Whilst we just fell short in our efforts to win promotion back to the Football League, there is a chance to make a long lasting difference off the pitch and the time is right for the community to take on this challenge."
He urged "Wrexham fans and potential investors" to attend a meeting next week to find out more about the plans.
Mr Lucas said: "I'm delighted to support the WST's bid to acquire Wrexham FC and hope that the owners take this opportunity to leave a legacy of community ownership for the people of Wrexham.
"I believe that this community-led bid is in the best long-term interest of Wrexham as a town."
After Tuesday's play-off defeat at Luton, businesswoman Stephanie Booth said she would not go into partnership with the WST to buy the club.
Her spokesman said she had received death threats, not reported to police, after becoming involved with Wrexham.
Mrs Booth's withdrawal came on the same day a winding-up order against the club was dismissed.
The order, brought by Her Majesty's Revenue and Customs, was dismissed at a short hearing at the High Court in London after Wrexham paid off its £200,000 tax bill last month.
The club first announced it was looking for a buyer in January when owner Geoff Moss and chairman Ian Roberts said they were stepping down from the board.
Former footballer Ashley Ward, who started his career at the club, said he had held preliminary talks while businessman Stephen Cleeve outlined his interest on the Red Passion website.
But since Mrs Booth and the trust announced they would work together they have been seen to be favourites.
She told BBC Radio Wales when she first launched her solo bid for the club the financing was in place.
She said she was then asked to form a joint bid with the trust.
"I've urged them to meet and discuss the detail. They have declined and they've been meeting with two property developers."
She said her bid involved moving the football club and its assets - including the Racecourse and Colliers Park - into community ownership.
Spencer Harris, board member of WST, said on Wednesday: "As a board of supporters, we've seen some of the statements made in the press by Stephanie Booth this morning and I have to say we're really disappointed that Stephanie would conduct herself in this way.
"I guess the key things are the board of the Wrexham Supporters Trust only ever received an outline proposal from Stephanie.
"That proposal lacked any detail and a formal proposal of what she was actually suggesting or putting to us never in fact materialised."
He said WST was "willing to talk to anybody who's got the interest of Wrexham Football Club at heart".
The WST launch meeting will be held in the William Aston Hall at Glyndwr University on Tuesday 17 May, 1930 BST.