Billy Meredith: Manchester United's first superstar
By Brendon Williams
BBC Wales News website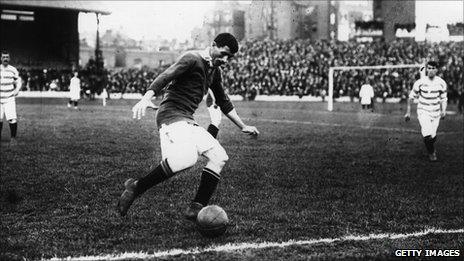 It was a record 19th league title win, and even Manchester United manager Sir Alex Ferguson agreed it was special.
But as Wayne Rooney, Ryan Giggs and team-mates prepare for another Champions League final, might any of this have happened in quite the same way without the help of a tobacco-chewing miner from Chirk, Wrexham?
Winger Billy Meredith was widely seen as football's first "superstar".
The Wales international helped steer the team to their first Football League championship in 1908.
He never earned anything like the fortunes that today's players take for granted, and his lifestyle could not have been more different.
In his early playing days he chewed tobacco, until the cleaners refused to wash the spit off his shirts.
Later, his trademark became a toothpick, which he chewed to aid concentration.
Born in 1874, Meredith began his career playing part-time for local teams while working at Black Colliery.
It was across the border though, in Manchester, where he was to make his name, establishing himself as a legend both in the red of United and the blue of rivals Manchester City.
In 1894 he signed for City as a professional, where he enjoyed a successful career for more than a decade until he was embroiled in a bribery scandal, and, according to United's website, was found guilty of match-fixing - which he strenuously denied until the day he died.
Meredith joined the Reds in 1906, and by 1908 he had helped them clinch the Football League Division One title - the first of United's record 19 league title wins.
United's website describes Meredith as the club's "first footballing legend".
In a glowing tribute to the player, it adds: "They don't make them like this any more - but they didn't make many like this then, either.
"The spindly Welshman, wizard of the dribble, champion of players' rights and the game's first household name, ruled the left flank in United's first triumphs - 1908 and 1911 league titles; 1909 FA Cup - under Ernest Mangnall.
"Astonishingly, he was still playing in his 50th year."
In 1909, Meredith was allowed to take the FA Cup to Chirk after United's victory.
According to Nigel Roberts, author of The History of Chirk FC 1876-2002, Meredith remains a legend in his home town, where two commemorative plaques bear his name.
He said: "The people of Chirk are to this day extremely proud that the one-time mining village played such an important role in the life of legendary Billy Meredith.
"His memory, even after a century, lives on in Chirk and even the younger generation are aware of the history of both Chirk FC and Billy Meredith.
"During the research for my book, the Billy Meredith era was probably the most interesting period as football moved from amateur status into professionalism and of course all the controversies that came with it."
Meredith's talents, and popularity among both sets of Manchester fans, saw him living the life of a "hero to the Edwardian working class," according to the National Football Museum.
The museum's website says: "Celebrated and often caricatured in popular cartoons, Meredith gained a popularity akin to that enjoyed by music hall stars.
"Like them, he revelled in entertaining the public and often chatted to spectators when play shifted away from his wing."
Mark Wylie, curator of Manchester United's museum, said Meredith was a man who "knew his own worth".
And Meredith believed his worth to be more than the £4-a-week wage ceiling for professional footballers in the early 20th Century.
According to Mr Wylie, Meredith's match-fixing allegations led to Manchester City being punished for paying their players too much.
As a result, key players had to be sold, and Meredith was among those who signed for United.
It was the start of a campaign by Meredith to gain better terms for footballers, and he was instrumental in re-founding the Players' Union.
Such was his passion for the cause, he even went on strike during his playing days at United.
Mr Wylie said: "It caused a huge furore. The Football League were saying they shouldn't wear players' union badges.
"Eventually the League came to recognise that a union should exist. Today, that union is the Professional Footballers' Association.
"He was an inspiration to other players to join the union, when they saw one of the best players of the day was a member."
Kenneth Allanson, a relative by marriage, agrees Meredith was a man who knew his worth.
Mr Allanson said: "He was a very direct man, very opinionated. He knew he was the best and he'd say so. I remember asking him his thoughts on Stanley Matthews in his prime.
"He said: 'Oh, Matthews, he's no good - how many goals did he score? Do you know how many I scored'?"
Recalling his only meeting with Meredith, Mr Allanson said: "Billy Meredith was my father-in-law's uncle.
"I do recall my father-in-law saying he used to train with Billy Meredith as a youth, and it was his job to put a handkerchief in the box so Billy could practice his corner kicks. He would get it there every time.
"It would have been some time in the 1950s when I met him. I was 20-something and I suppose Billy Meredith must have been about 80."
Mr Allanson said Meredith was a "likeable chap," adding: "I remember him saying that if people think it's a dirty game now, they should have seen it in his day."
According to the National Football Museum, Meredith fell out with management at Old Trafford by 1921, "leading to his transfer to Manchester City, whose supporters revelled in the return of their former idol.
"Now in his 40s, Meredith was still an automatic choice for Wales, as he had been for two decades.
"In total, Meredith won a record 48 caps for his country, culminating in a famous victory over England in his last match in the red of Wales".
Related Internet Links
The BBC is not responsible for the content of external sites.