Tree hunter Rob McBride's three-year Offa's Dyke search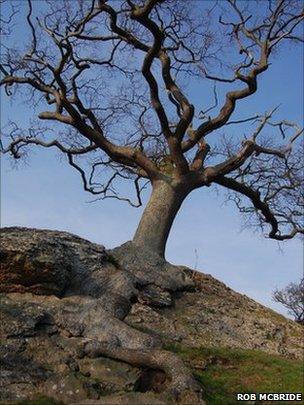 A man nicknamed the "tree hunter" hopes to conclude a three year project to record ancient trees along Offa's Dyke.
So far, Rob McBride has logged more than 250 important trees, some of which are more than 500-years-old.
He has found towering oaks with 7m (22ft) girths and exposed roots stretching 9m (29ft) on the path built by King Offa in the 8th Century.
Mr McBride has been working his way along the 177 mile (285km) route from Prestatyn to Chepstow since 2008.
It is a project he started as part of the Woodland Trust's UK-wide Ancient Tree Hunt with important trees being recorded on an interactive map.
The trust said ancient trees are "living relics of incredible age" and is hoping to create a database of 100,000 by the end of the year.
This year marks Offa's Dyke Path's 40th anniversary since the national trail was officially opened in 1971 and which largely follows the route of the original dyke.
Mr McBride described the dyke as a "linear nature reserve", saying some of the most impressive trees have taken centuries to mature "undisturbed" on "uncultivated land".
Some were saplings during the reign of Henry VIII in the 1500s.
Initially, Mr McBride, a former IT worker from Ellesmere, Shropshire, thought the task to record the ancient trees would take a "few weeks" as he once walked the whole route in several days.
But he soon realised it was a bigger job due to the travel involved going back and forth along the path, accessibility and the work finding, and then measuring and recording, the trees.
However, he has worked his way south from Denbighshire to Monmouthshire and wants to finish the project this year due to other commitments.
TV programme Countryfile features Mr McBride's work on Offa's Dyke Path on BBC One at 1900 BST on Sunday 29 May.
Related Internet Links
The BBC is not responsible for the content of external sites.