New Order's Peter Hook says fans expect free music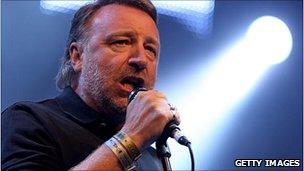 Big bands are reassessing the amount of time and money they invest in making music due to smaller returns, says former New Order bassist Peter Hook.
He was among the speakers at a meeting of music experts in Wrexham on illegal downloads and the internet's impact.
Hook says music is not any richer as consumers now listen over the web and expect much of it for free.
The meeting also examines the decline in sales since the 1990s, and the role of social networking websites.
"People are rapt when they come and see you live, but yet you put them in front of a laptop and they're flitting from thing to thing," said Hook, whose New Order evolved from the post-punk band Joy Division.
"It's sad really because it's affecting the way that musicians make music," he told BBC Radio Wales.
He said today's popular bands were not immune because "you don't get any money back for your recording".
"What's happening now is you're saying 'you can't just compose and make a living, you have to compose and play live'."
Hook is one of three speakers joining lecturer and DJ Graeme Park at Glyndwr University's new Creative Industries Centre.
Another is Simon Gavin, managing director of Verve Records, who is responsible for artists such as Duffy, Daniel Bedingfield and Sophie Ellis Bextor.
The event is part of a series of public lectures focussed on the creative industry.