Wrexham council expected to drop political ban plans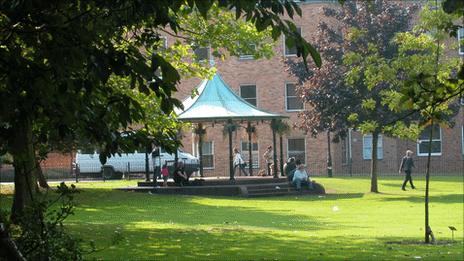 Controversial plans to ban political campaigning in areas of Wrexham town centre, Queen's Square, and Llywn Isaf, are expected to be scrapped.
The council had earlier deferred a decision on plans to ban "activities or events held to promote parties, groups, organisations or individuals for political purposes".
However, a new says there are no legal grounds for the plans.
The town's MP, Ian Lucas, described the initial proposals as "outrageous".
The idea was put forward after the council reviewed its protocol for events in the town centre after the English and Welsh Defence League planned a march in Wrexham two years ago.
As well as being criticised by Mr Lucas, the council's plans received no public backing from any of the four main political parties.
The report will be discussed on Wednesday by the corporate governance and policy scrutiny committee.
The council's head of assets and economic development, Steve Bayley, said the advice was that there were "no legal grounds to prevent a political party from hiring either Queen's Square or Llwyn Isaf, subject to maintaining the neutrality of the council during an election period."
The committee's chairman, David Edwards, said the council had never intended to ban political activities in the two areas of the town centre.
He said the original report to councillors had been misconstrued because of the way it had been written.
"There is no question - and never has been - of banning the sort of political activities that parties hold, coming up to an election," he said.
Councillors will be recommended to approve an increase in charges for hiring the square and Llwyn Isaf.
It would mean a £50 rise to £150 a day for commercial enterprises and non-charities.
Charges for local charities and council departments would go up £5 to £30, while national and regional charities would be asked to pay £60 - an increase of £10.
The armed forces would still be able to hire the area free.
Related Internet Links
The BBC is not responsible for the content of external sites.