D-Day veteran returns to France with lottery funds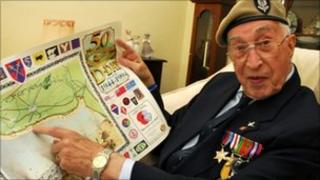 A World War II veteran has returned to France to pay respects to fallen comrades with Big Lottery Fund help.
Donald Baker, 88, from Rhuddlan, Denbighshire, is visiting Normandy, where he joined 1944's D-Day landings.
Mr Baker later took part in the battle for Walcheren Island off the Netherlands, despite having been injured by friendly fire in 1942.
"To this day I have to wear special socks to stop my legs from swelling up as a result of the injuries," he said.
His trip is supported by the Big Lottery Fund's £17m Heroes Return scheme for war veterans, their relatives and carers.
He volunteered to join the RAF at the age of 18 in 1941 as a means of avoiding conscription and the possibility of being sent down the mines as a "Bevin Boy".
He trained as an air gunner and suffered leg injuries in 1942 when his Wellington bomber was hit by friendly fire from a Merchant Navy vessel as the plane ws returning from firing exercises over the North Sea.
"The aeroplane's hydraulic systems were damaged in the incident and hydraulic fluid leaked all over my legs," he said.
"It was nasty stuff, my legs were covered in ulcers and I had to go for regular treatment."
"It wasn't until I had proper treatment when the war ended in 1945 that the ulcers eventually cleared."
He was transferred to a radar station at Hayscastle Cross, Pembrokeshire, but was later deemed fit enough for a secret training mission which led to the D-Day landings.
"We felt a sense of trepidation naturally but we were also pumped up like footballers are before a big game," he said of the invasion.
"We'd been training for this moment for about four months and we were as fit as butcher's dogs and we were all well prepared. This wasn't going to be another Dunkirk."
Mr Baker was part of a convoy which followed the Armoured Brigade when it broke through and went on to capture Brussels.
He later saw action in the battle for Walcheren Island off the coat of Holland, and witnessed the evacuation of inmates from the Bergen-Belsen concentration camp near Hanover, Germany.
Mr Baker recalled what he called "the smell of death".
"It was a real stench and worse than anything I've ever smelt," he said.
"They were in a terrible state and I couldn't believe that human beings could do that to others."
Following VE Day in May 1945, Mr Baker remained in Germany until September 1946 where he manned an old telephone exchange which was commandeered by the Allies.
He then joined the 21st Special Air Service Regiment (Artists Rifles), taking retirement when his first child was born.