MP Chris Ruane fights to protect Y Morfa nature site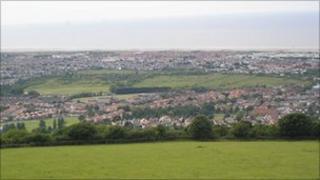 Vale of Clwyd MP Chris Ruane is leading a campaign to safeguard a wildlife site in Prestatyn from development.
Landowner Prestatyn Estates wants Y Morfa to be designated as land for "mixed use" future development.
But Mr Ruane and environmental groups say the site next to the playing field and public market is a natural flood defence and should be retained.
The concerns over flooding around the town will be raised at a meeting with Welsh Government officials next week.
The opponents have collected a 2,000-name petition which, they say, shows the support to retain the wetland.
Denbighshire council has earmarked Y Morfa as an "open space" free from building in its local development plan (LDP).
Big floods
Although yet to be formally ratified by the Welsh Government, this maps out future needs of the county such as new homes and industrial space.
Planning consultants for Prestatyn Estates are drawing up a case opposing the designation.
But that cannot happen until the LDP goes before a public examination with a planning inspector.
A spokesman for Prestatyn Estates explained the land had previously been designated as a site for potential mixed use before Denbighshire council had come into being, although that had since lapsed.
He said the issue was "up in the air" as the plans were with the Welsh Government.
However, he made reference to Denbighshire council's LDP proposals to build a lot of its projected housing needs - 2,000 homes - in Bodelwyddan, adding if that happened "there will be no requirement for housing anywhere else".
A Denbighshire council spokeswoman said Prestatyn Estate had the right to object.
Mr Ruane is taking part in a meeting next week with council and Welsh Government officials to discuss flooding issues.
It comes after big floods in the town in 2007 and 2008 which prompted a Welsh Government-funded a pilot study to investigate Prestatyn's "complex drainage system".
Mr Ruane, along with Prestatyn and District Environmental Association and North Wales Wildlife Trust, want Y Morfa protected, saying it is an important wildlife habitat but also a flood defence as it is a natural wetland.
The MP said he believed by working together, the community might persuade Prestatyn Estates to withdraw their objections to the designation of the site as open space.