Rossett Cocoa Rooms could be sold for community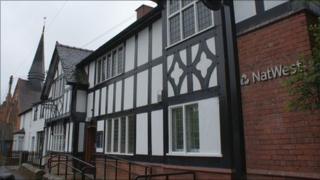 A run-down historic building could be sold off to raise money for a Wrexham community.
The Cocoa Rooms at Rossett were built in 1881 as an alternative to a pub in the temperance movement, but are now largely in disrepair.
Calls to sell the building came from Wrexham county councillor Hugh Jones.
It was left to the community and is managed by a board of trustees, who hope to meet soon to discuss options for a sale.
The Cocoa Rooms was built was a result of growing opposition to alcohol during the late 19th Century.
Later, it became a popular place for former soldiers to meet and drink cocoa after World War I.
Originally, there were two buildings, but one was recently sold by the trustees and the money has been banked.
Part of the remaining building is rented by Natwest Bank, but most of it remains in a bad state of repair internally.
Coun Jones said: "Those buildings were left to the community. Apart from contributing to the street scene, they have been making little or no contribution to the community.
"Because of the expense of repair, the only solution is to sell.
"I wrote to the trustees about three-and-a-half weeks ago to see if they would consider selling. I have had no response and I'm annoyed about that."
He added: "The principal that it was left to the community of Rossett is in my view not being fulfilled.
"One of the problems is the building can't be used for community use because of the cost of meeting all the requirements, and disabled access alone would cost £130,000.
"You need to sell it, not just sit on it."
Cllr Jones said the area had no "proper" village hall, and money raised could be used to create better communal facilities for local residents.
'Complications and implications'
Chair of trustees, Rowland Phillips, said he had not replied in writing, but had told Mr Jones that no decision could be made until the trustees had met to discuss the options.
He said there were "all sorts of complications and implications", including the fact that any potential buyer would also be taking on the bank as a tenant.
He confirmed one building had been sold and the trustees were looking after the funds raised.
Asked whether money from that sale would eventually go back to the community, he said: "It has to", adding: "We're controlled by the Charities Commission."
However, he said: "The committee has to make a decision whether to spend it doing up the remaining building - although it won't be enough - or do we sell it as it is?
"The committee has to decide on that."