Money raised for grave stone for murdered Anthony Burke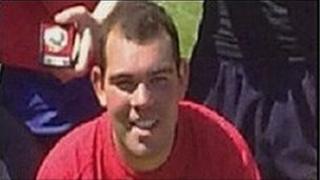 The mother of a Denbighshire man who was murdered 18 months ago has finally raised enough money to buy a memorial stone for his grave.
Anthony Burke, 20, was stabbed by Oliver Taylor, then 19, following an argument near his home in Rhuddlan, and died in hospital on Christmas Eve, 2009.
Cindy Burke could not afford the £2,800 for the head stone, but has raised the money with the help of friends and family and local people.
The stone will be installed on Friday.
Until now, Mr Burke's grave, at Rhuddlan New Cemetery, has been marked with a cross.
After the installation on Friday, a blessing will be held at the grave on Sunday, the day before what would have been his 22nd birthday.
The grave stone will feature a broken heart.
On one side, it will read: "Anthony Burke, murdered on 24 December 2009, aged 20 years. A beautiful son, brother and friend. He will be forever in our hearts."
The other side of the heart will be engraved with a poem written by his mother:
"Did the sun shine brighter? Was the sky a deeper blue?
"Or was it just a better world when we shared our lives with you?
"Broken are the hearts that loved you. Sad are the tears that fall.
"But living our lives without you Ant, is the saddest part of all."
Ms Burke, 53, said the money had been raised through a variety of sponsored events, boot sales and a fun day.
She and friends sold home-made badges and t-shirts during an anti-knife crime rally.
She said: "It was all for his head stone. I didn't have the money.
"I'm very grateful for all the support.
"It's his birthday coming up. It'll be a relief to have a stone at last to mark his grave - God help him, he deserves that."
Mr Burke had been drinking with a group to celebrate a friend's birthday and they started a snowball fight in the street near his home at about 2230 GMT on 23 December, 2009.
A jury at Mold Crown Court heard how Oliver Taylor went outside to tell them to get away from his house.
Taylor claimed the group were holding bottles, and he went inside, before emerging with a kitchen knife to "scare them away".
He stabbed Mr Burke and was jailed for life for murder in April 2010.
Asked what feelings she had for Taylor, Ms Burke said: "I haven't got any feelings towards him."
On her grief for her son, she added: "People say time heals, but it doesn't.
"It gets worse because you forget little bits. We've started to forget how he sounded."