Rhyl market training concerns after takeover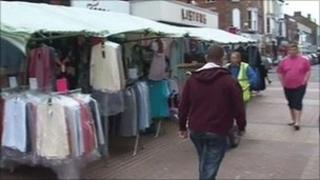 Traders in Rhyl say that they can no longer offer work experience to the unemployed since Denbighshire Council took over the street market.
The town centre market has been run as a community project since last November giving people training and advice.
But since the council took over in April, traders said they have had to stop helping the trainees.
Denbighshire Council said individuals cannot manage the market without going through a tendering process.
But it said it will look to give discounted rates and preference to local producers and those that encourage the local unemployed to have skills.
The street market, which stemmed from an idea by the local MP Chris Ruane, started in November, with the aim of retraining and getting the long-term unemployed back to work.
David Sumner, 47, was jobless and homeless after suffering from depression when he was offered work there.
He is now starting up his own stall selling handbags.
He said: "I started off volunteering, putting up stalls and learning the basics.
"I just put everything into it so I can benefit myself, give myself some pride back...it's really changed my life."
Ray Worsnop, one of the market's founders, said now they can no longer run the market they will struggle to help others.
"Three of them had to go back onto benefits they were working to come off and we have no reason to believe the council would employ the people that we were employing to do the same job," he said.
"They were working within the market and getting training from us and working with traders and we as a company were paying them for their time.
"As soon as the council said you have no involvement I had to say we don't have the income to pay you."
Commercial venture
Stall holder Michaela Napier said it is a shame the training scheme will no longer run.
She said: "It's giving someone a chance that's been unemployed for a long time to get back into work and learn new things."
Denbighshire Council said the market has been running since November 2011 as a pilot scheme.
But now that planning permission is in place for the market, which is on public land, it has to regulate and manage it.
Mr Worsnop said running the market just as a commercial venture will not benefit the community in the way they had hoped.
He said: "I have lived in Rhyl for 10 years and everybody keeps saying the west end of Rhyl is the poorest ward in Wales.
"We're saying let us run the market and use those funds to regenerate what is the worst ward in Wales."
He is meeting the council and MP Chris Ruane on Friday to discuss the issue.