River Dee Community Church provides flats for homeless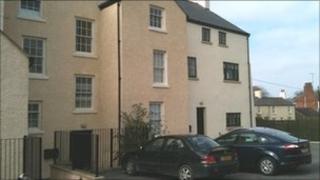 Church group members are helping local homeless people in Flintshire by running their own housing project.
River Dee Community Church, Flint, has opened 12 new flats in the former Talbot Arms Hotel in Holywell.
It was known locally as the place where The Beatles popped in for a pint after playing in nearby Mold in 1963.
The church is working with a Christian housing charity which owns several properties in Wales and uses local groups to run the homes.
Senior minister Stephen Harmes said volunteers from the church are involved in the project day to day.
They are helping to maintain the property including cleaning communal areas in the listed building which was opened by Delyn AM Sandy Mewies last week.
'Homeless ministry'
Mr Harmes said his church wanted to get involved in any way it could to help people locally.
"If you fail to be relevant in the community you fail as a church," he said.
And through their work, such as giving free bags of food, he said they believed helping to manage the 12 flats - seven are two-bedrooms for families and five single bedrooms - was one way of assisting.
Potential tenants are being referred to River Dee Community Church by other groups such as local homeless charity Save the Family, the YMCA and local police.
The property has been bought by Christian charity Green Pastures Housing.
It has been working with the YMCA in Flint housing people in four self-contained flats in nearby Bagillt and eight flats in a converted chapel in Holywell, having partnered with Holywell church group, New Life Church.
Elsewhere in Wales, it works with The Well Christian Centre in Bridgend, which started a "homeless ministry" in May 2008.
In June 2009, the housing charity bought three properties to help that church group.