Punk vicar Philip Chew plays for Llanarmon faithful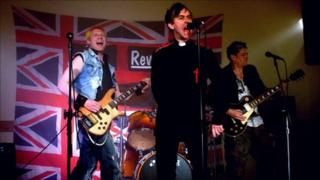 A clergyman who sings in a punk rock band has played his first gig for his new parishioners in Denbighshire.
The Reverend Phil Chew, responsible for five churches around Llanarmon yn Ial, has sung with Revisit for many years.
The band has played regularly in north west England, but never before for his congregations in north Wales.
"They know I'm a musician but not to what extent," said Mr Chew. "It's not going to be Cliff Richard - more like the Sex Pistols."
The gig on Saturday night was at the Raven Inn, a community-run pub in Llanarmon yn Ial.
The Anglican priest, who took up his post in north east Wales just before Christmas, said there had been a lot of interest in his other career and that he was expecting a few of his regular churchgoers to attend the gig.
Mr Chew fronts the band in a punked-up version of his vicar's vestments, but stressed that church authorities were happy with his musical career which wasn't incompatible with his Christian mission.
Blackpool Tower
"The songs we choose don't compromise where I'm coming from, although they may be close to the knuckle," he said.
"We're not making a statement - we're no different from other people who just want to have a good time."
The band, whose other members include an optician and an engineer, have played regularly in north west England, including a gig at the top of Blackpool Tower.
Mr Chew is part of a tradition of priests in popular music, including soul singer the Reverend Al Green and former Communards star Richard Coles, now a vicar in Northamptonshire.
Lemmy of the rock band Motorhead, who grew up in north Wales, was the son of a RAF chaplain and later joined a band called the Rockin' Vicars.