Speed cameras attacks criticised by road safety group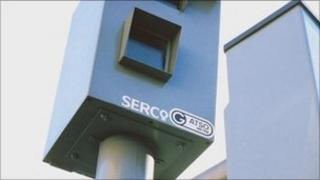 Fixed point speed cameras in north Wales have been sawn in half, pulled from the ground, glued, smashed and driven into, a road safety group has found.
There has also been 13 fire damaged in mid and south Wales since 2006.
The findings are revealed by GoSafe, the road safety group which manages Wales' cameras.
In one incident a camera column in Hawarden, Flintshire, was wrenched from the roadside by rope tied to a vehicle.
And another in nearby Mynydd Isa was sawn up with the bits left on the road.
It is thought disgruntled motorists are to blame for some of the damage as people caught speeding incur fixed penalty fines.
There have been 32 incidents of damage to speed cameras reported since 2004 in north Wales, according to a Freedom of Information (FoI) request by Clwyd South AM Ken Skates.
GoSafe has since revealed there have been 28 other incidents in mid and south Wales since 2006.
Deliberate damage
In north Wales, the figures show a minority of cases have involved accidental damage in road collisions.
However, officials believe the camera on the A5104 at Pontybodkin, near Mold, was deliberately driven into in 2008, causing damage.
Jim Moore, GoSafe partnership manager, said: "The irresponsible people involved should realise the cameras are put in place to protect road users and to save lives.
"Any cameras that are damaged or vandalised will incur an unnecessary financial cost to repair the camera and could result in a fatal or seriously injured road user, as cameras are only placed where somebody has been killed or seriously injured.
"There is a simple message - cameras are in place to save lives, not to make money."
GoSafe manages Wales' speed cameras in a partnership involving the nation's 22 unitary authorities and its four police forces, among others.
The FoI request says that even though no fixed camera technicians have been attacked, they have received verbal abuse along with colleagues working as mobile camera technicians.
"Mobile camera operators have received verbal abuse, gesticulations and had members of the public banging on the vans," says the document.
'Tougher action'
The camera worst affected in north Wales is located on the A525 at Coedpoeth, near Wrexham.
It has been struck six times with damage caused to the front of the lens box and paint thrown over it.
In the latest attack in 2008, there was an attempt to set it on fire - leading to two arrests.
In the south, there have been two incidents this year with one in Ferndale, Rhondda Cynon Taf, and Pontypool, Torfaen.
In all, there are 152 fixed camera sites in Wales with only 12 in north Wales; six in Flintshire, three in Wrexham, two in Denbighshire, one in Conwy but none in Gwynedd or Anglesey.
Meanwhile, Cardiff, Camarthenshire, Rhondda, and Swansea have the most fixed cameras, according to the GoSafe website.
Mr Skates said: "We must send a message that attacks to both speed cameras and those installing them will not be tolerated in any circumstances and I'd like to see tougher action taken on those caught."