Council could force purchase of former Denbigh hospital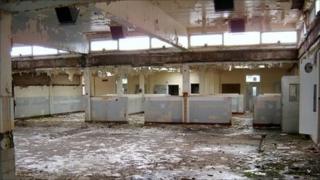 Plans are being considered which could see the compulsory purchase of the former North Wales Hospital at Denbigh.
An urgent works notice was issued by Denbighshire Council with fears for the condition of the Victorian building, which closed in 1995.
The council confirmed it was following a procedure which could eventually result in a compulsory purchase.
One councillor said local people wanted it purchased "one way or another". The site's owner has been asked to comment.
Contractors began work at the former Victorian psychiatric hospital two weeks ago, after the council claimed the building's owner failed to act on its urgent works notice.
It is thought the work will take at least six months.
Since then, the council has also served a dangerous structures notice.
Once the initial work is complete, the council has the option of serving a repairs notice on the building's owner.
If that was ignored, it could proceed towards the compulsory purchase of the site and buildings.
Phil Ebrell, Denbighshire's Conservation Architect, said: "Under listed building legislation, Denbighshire County Council could seek to acquire ownership through compulsory purchase due to the failure of the owner to repair the building."
North Wales Hospital, built in 1844, has been vandalised, looted and fire-damaged since it closed in 1995.
Developers had planned to build up to 280 homes, businesses and community facilities on the site.
No work was done and planning permission lapsed in 2009.
In November 2008, the main hall in the building was destroyed in a blaze which required 50 firefighters to bring it under control.
'Negative equity'
Colin Hughes, county and Denbigh town councillor, said: "As far as local people feel, ownership has to be relinquished one way or another, because progress has been absent for far too long.
"It's quite possible that the site's in negative equity because planning permission has now lapsed, and the urgent work will likely cost hundreds of thousands of pounds.
"The urgent works notice sets up a springboard for enabling potential development. That's the only thing that will seal the future of the hospital.
"If the site is bought under a compulsory purchase order, it will allow pockets of land to be sold off.
"Then, finally, we might see some progress towards saving this important piece of north Wales' history."
Both Mr Hughes and Denbighshire council said they were concerned that trespassers were still entering the building, where potentially-lethal asbestos is being removed.
Mr Hughes said: "People need to stay out. It's extremely dangerous there. Not only is the building unsafe, people could be taking asbestos into their lungs."
BBC Wales has made several attempts to contact the owner, Lancashire-based Freemont Denbigh Ltd.