Denbigh's Georgian Mostyn House is restored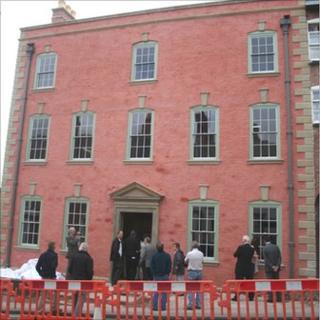 The restoration of an historic town house has been revealed after 10 years of standing empty.
The frontage of the revived red brick building which dates to 1722 can now be seen by passers-by in Denbigh.
The town which has more than 200 historic properties is the subject of a major heritage project to renovate the buildings.
Work on Mostyn House, Vale Street, now switches to the interior as part of a £800,000 project.
It is believed the town house was a home of a member of the well heeled Mostyn family who built much of the seaside town of Llandudno. A crest displaying their coat of arms is on the building.
Their main seat was Mostyn Hall in Flintshire, but their estate extended across the north Wales coast.
Specialists involved in the Denbigh Townscape Heritage Initiative (THI) say Vale Street was the street of choice for the gentry of the 18th and 19th Century.
Being one of the most prominent, as well as in a "serious state of disrepair" for so long, Mostyn House was selected as a "critical project" for inclusion in the THI programme.
It stood empty for more than 10 years after being altered to form two shops.
'Unsightly building'
It has formerly been a chemists, café, and solicitor's office.
Many of the historic interiors remain, including much of the original carved oak stair and Georgian panelling and box cornices.
When the current owner and builder John Franklin removed the external render, he revealed the original Georgian frontage with brick arches and sandstone keystones above windows, sandstone sills and quoins, as well as evidence of a stone door surround.
He has re-faced the stone detailing, retaining as much of the original as possible, replaced the later oriel window with a single sash window, reinstated the four ground floor sash windows and lime washed the walls with the same colours it would have had originally.
Grants are being provided by the Welsh Government, Heritage Lottery Fund and Denbighshire Council.
"The transformation is unbelievable," said Carol Smith, THI project manager.
"What was once an unsightly building has been given one of the best makeovers we've seen as part of the THI programme."