Flintshire council 'unlawfully hacked' email claims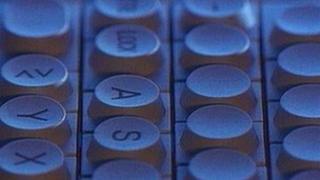 A Flintshire councillor has alerted police claiming his emails were "hacked" by council officials.
Bernie Attridge claims he was the victim of a crime after his emails were accessed as part of an investigation into councillor Patrick Heesom, who is appearing before a tribunal.
Flintshire council said emails were accessed at the tribunal's request, and no officers had acted improperly.
North Wales Police confirmed it had received a complaint.
Mr Attridge, councillor for Connah's Quay Central, gave evidence last month to an Adjudication Panel for Wales tribunal into the behaviour of Patrick Heesom, who is facing misconduct allegations.
During his evidence, Coun Attridge referred to email correspondence.
Last week, emails from his account were produced to the tribunal panel, and Coun Attridge claims no-one sought his permission beforehand.
'Transparent inquiry'
In a letter to Mark Polin, chief constable of North Wales Police, he said: "I did not authorise this hacking of my email account or the copying of my emails, which I consider to be private and confidential.
"My account contains important ward constituency communications, political communications, and matters relating to the running of Flintshire council. My personal emails are also within my mailbox.
"I am not under any investigation for any alleged wrong-doing or criminal activity."
He added: "I would like you to investigate this serious matter and conduct a full and transparent inquiry.
"I intend to raise this issue at the highest political levels, but it is necessary that an urgent police investigation starts as soon as possible and that no stone is left unturned to discover who conducted this serious crime.
"I expect there to be prosecutions and to receive justice as a victim of such a crime."
He said a complaint has also been sent to the council's chief executive and the Adjudication Panel for Wales, which has been asked to comment.
Colin Everett, Flintshire council's chief executive, said: "The council can confirm that none of its officers acted improperly.
"Officers accessed the email account in question under the specific instruction of the Adjudication Panel which has powers of access to information required for its investigations.
"The council is not able to pass any further comment."
The tribunal, sitting in Ewloe, is ongoing and is expected to run until 15 July.