Huge interest in Stephanie Booth's hotels, says KPMG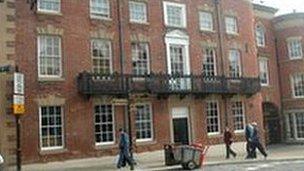 Administrators claim there is "huge interest" from potential buyers interested in four north Wales hotels owned by businesswoman Stephanie Booth.
KPMG says it has had 13 inquiries after Llangollen Hotels, a chain of seven hotels, went into administration.
Administrators are trying to sell four freehold hotels in Wrexham and Llangollen to pay off debts, including £900,000 to Her Majesty's Revenue and Customs.
All the hotels are continuing to trade.
They are Bodidris Hall in Llandegla, Wrexham, and The Wild Pheasant, The Chainbridge and The Bryn Howel, all in Llangollen, Denbighshire.
David Costley-Wood, joint administrator and restructuring partner at KPMG, said: "There has been a huge amount of interest and we have had an encouraging number of inquiries from potential buyers for the hotels.
"The administrators have been in dialogue with 15 interested parties including trade buyers, individuals and other businesses. We are confident of securing the future of the four hotels."
Llangollen Hotels and its parent company Global Investments Group went into administration on Friday.
All bookings and deposits are being honoured while the administrators find buyers.
The Wynnstay Arms Hotel in Wrexham town centre has closed but another two leased hotels remain open.
They are The Anchor Hotel in Ruthin, Denbighshire, and The Chester Bridge Hotel, Chester.
Global Investments Group operates three children's soft play centres: Fantastic Fun Houses, in Mold, Flintshire; in Wrexham, in Oswestry, Shropshire; as well as McLarens, a wine bar in Oswestry.
The Mold and Wrexham play centres have closed.
Ms Booth says she is continuing to run The Anchor and Chester Bridge hotels, the Oswestry play centre and McLarens wine bar.