Wrexham Supporters' Trust says buyout talks 'stalled'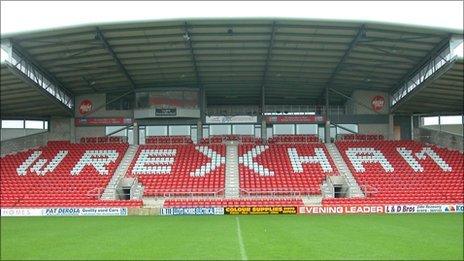 Wrexham Supporters' Trust (WST) says its offer to buy the town's football club looks set to be rejected and claims the future of Wrexham FC "is on a precipice".
Trust spokesman Spencer Harris said talks with the club's owners "appear to have stalled".
His claims came after WST issued a statement raising concerns about the club's financial situation.
Wrexham FC owner Geoff Moss said a statement would be issued on Thursday.
Last week, WST said it was ready to make the club an offer for the Racecourse ground and Wrexham FC's training facility, with the aid of "third parties".
Since then, BBC Wales has learned that Glyndwr University is also interested in buying into the Racecourse ground, but it is not clear how that would affect WST's bid.
WST spokesman Spencer Harris said the trust met with club representatives on Wednesday.
He said: "Our talks with the club appear to have stalled. At this stage it looks like the owners aren't going to accept our offer.
"It's still on the table. It's for Geoff Moss and the other directors to decide."
He added: "The future of the club is on a precipice."
The club was put up for sale earlier this year, with the trust interested from the start.
WST was part of a joint bid with local hotelier Stephanie Booth before she withdrew her offer.
Later, businessman Colin Poole pledged cash for a takeover with the WST having a 25.1% share, before he also pulled out.
Since then, WST has been in talks over a full takeover putting the club into community ownership.
Two weeks ago, club directors issued a statement on the club website urging the trust to act quickly.
It said: "The Trust have been advised that they would need to take over sooner rather than later, as it is creating a vacuum regarding moving the business on in terms of sponsorship, as well as on field and off field planning."
Related Internet Links
The BBC is not responsible for the content of external sites.