Wrexham FC says talks continue after 'stalling' claims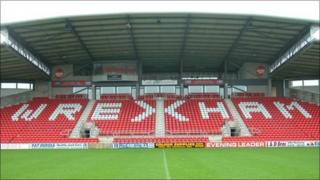 Wrexham FC says negotiations over the club's sale have continued, despite claims by the only remaining bidder that talks had "stalled".
Wrexham Supporters' Trust (WST) said on Wednesday that it had concerns about the club's financial situation, and said its offer looked to be rejected.
Wrexham FC said it always maintained a potential buyer would need at least £1m to run the club effectively.
It said it had also offered WST its training ground for free.
On Wednesday, WST said the club's financial situation, including its debts, high cost base and reduced income were hurdles to the successful transfer of ownership.
It warned that the future of the club was "on a precipice".
In response, Wrexham FC issued a statement, saying: "The recent WST statement suggests that the club has debts, high costs and reduced income.
"The £1m estimate from the current owners is based on the existing debt and costs which have not materially changed since the club was put up for sale.
"Neither has the projected income changed, although it was understood that a supporter led consortium was likely to increase revenue rather than reduce it."
It added that in attempting to sell the club to the WST, the current owners have agreed to:
Write off £2m of personal investment
Donate Colliers Park training ground for free, for resale, at a value believed to be around £400,000-500,000
Sell the club for £1
Defer other liabilities