200 Wrexham FC fans walk Snowdon in bid to buy club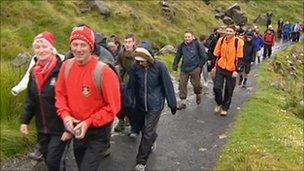 About 200 Wrexham football fans have walked up Snowdon to raise cash towards the supporters' bid to buy the club.
The Wrexham Supporters Trust (WST) said it hoped Sunday's walk would raise about £20,000.
Trust member Spencer Harris said there was still no decision on the club's sale but talks were still continuing.
Owner Geoff Moss put the club up for sale earlier this year, with the trust interested from the start.
"We're hoping to raise in excess of £20,000 towards our plan to try and take over the Wrexham Football Club, ready for the new season," said Mr Harris.
"We're still in talks with the owners," he said.
"Obviously the decision still rests with the owner of the club, but we're still in talks and we're hopeful that we can make progress," he added.
Last week the club confirmed that negotiations over its sale were continuing