Former Manchester City player Javan Vidal kicked woman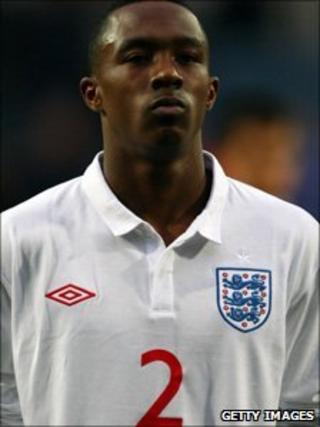 A former Manchester City defender was seen on CCTV repeatedly knocking over and kicking a woman, a court has heard.
A judge told Javan Vidal, 22, he should be "thoroughly ashamed" after behaving "like a drunken yob" in Rhyl, Denbighshire.
Vidal, of Stretford, Manchester, admitted affray and received a 30-week suspended jail sentence.
Mold Crown Court heard there had been provocation as CCTV showed Amy Temple, 22, of Rhyl, butting him.
Judge Niclas Parry told Vidal, who has played twice for England under-20s, that but for his impeccable character he would be going to prison, which would possibly ruin his future.
Judge Parry said he would not award any compensation to Temple, who has admitted affray, and a warrant was issued for her arrest when she failed to turn up in court.
Vidal, who was recently released from his contract with the Premier League side, was currently looking for a new club, the court heard.
He was also ordered to pay £340 costs.
Vidal, who also played on loan with Chesterfield, Grimsby Town, Aberdeen and Derby County, cried with relief when he walked free from court, but declined to comment.
Gareth Preston, prosecuting, said the incident happened at 03:50 BST on 30 May outside the Godfather kebab shop.
Another man allegedly made a remark to Temple, who had been drinking.
She butted Vidal, who then threw her to the ground and as other men tried to drag him away he followed her down the street, knocked her to the ground several times and kicked her.
At one stage Vidal appeared to try to push her into the path of a taxi but the driver avoided her.
Temple had been taken to a taxi rank and a taxi driver drove her away - with Vidal chasing after the vehicle and attempting to kick at it, said Mr Preston.
Police officers arrived and arrested him.
'Out of character'
In court, Judge Parry told him: "You should be thoroughly ashamed of yourself.
"A so-called athlete, a professional footballer who has been with one of this country's leading clubs, you behaved like a drunken yob."
The judge added: "There was provocation here, there is no doubt about that. You were not looking for trouble. She was.
"Trouble found you, you acted out of character, you pleaded guilty."
Paul Bryning, defending, said his client had recently been discharged from his contract with Manchester City and he had no income until he found a new signing.
The judge gave him three months to pay the costs which he said would give him time to sort his future out.