Corwen Pavilion: Ruling expected over building's fate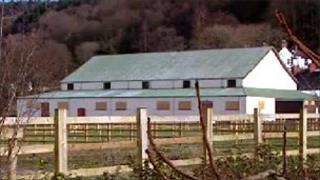 Residents fighting plans to demolish a Denbighshire town's community centre are waiting to hear if they have done enough to save the building.
It had been hoped a decision over Corwen Pavilion's future would be announced on Tuesday, but it is expected to be put back.
In April supporters won a temporary court injunction to stop the planned demolition.
Denbighshire council said the building was not financially viable to repair.
Campaigners have said an independent surveyor has costed repairs at £66,000, rather than the £2m - £3m Denbighshire council said it would cost to rebuild the centre.
Opponents were given extra time last week to submit their quotes for repair and other information by Tuesday.
Safety concerns
A Denbighshire council spokesperson said as information had been received prior to an agreed deadline, no updates are now expected in the case on Tuesday.
The spokesperson said the authority is waiting to hear from the judge presiding over the case about what happens next.
The pavilion closed in March 2010 due to health and safety concerns.
Since then, council officers helped form a working group to create a charitable company to have the flattened land transferred to it, and help its members obtain funding to build a new pavilion.
In April, the Friends of the Pavilion obtained a temporary injunction restraining the council from "demolishing, damaging, deconstructing or otherwise degrading Corwen Pavilion".
Denbighshire agreed not to begin demolition until the group's own structural engineer could assess the pavilion and provide the council with costs associated with refurbishment.