Eisteddfod 2011: Wrexham organisers speak of 'pride'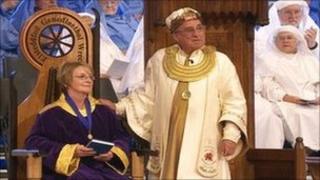 Organisers of the National Eisteddfod say they will look back on the Wrexham event with "pride and happy memories".
Attendance figures for the final day of 18,151 were up 4,500 on the final day in Ebbw Vale in 2010.
Total attendances across the week were more than 9% higher at 149,692.
Aled Roberts, chair of the local executive committee for the Wrexham event said: "It has been a very happy week here in Wrexham, and we have been very lucky with the weather most days."
He added: "It was great to see a winner in all the main ceremonies during the week - and all of these winning for the first time, and all these winners and their stories have added to the friendly atmosphere of the week."
Mr Roberts said 4,500 local people took advantage of a buy-one-get-one free scheme at the start of the week and he was "delighted" so many local people attended with a number returning during the week.
He thanked everyone who had worked to stage the event and welcomed the support of local residents who visited the Maes.
"We, the local people and the whole of Wales will look back at the Wrexham and District National Eisteddfod with pride and with happy memories about the year when the Eisteddfod came to our border town," he said.
Caernarfon artist Bedwyr Williams marked the end of a successful week on Saturday, when he won the People's Choice award in Y Lle Celf after picking up the Gold Medal for Fine Art and the Ifor Davies Prize earlier in the week.