New consultation on Flintshire schools shake-up ordered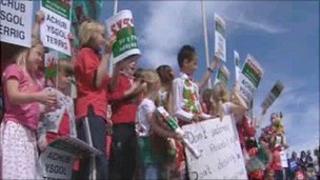 Councillors are to take "a step backward" to look again at a shake-up of secondary schools in Flintshire after hundreds joined a protest.
A new consultation will now start in the autumn after council chiefs halted the current round, admitting public confidence in the plan was "mixed".
Parents, pupils and teachers lobbied councillors before a special meeting in Mold.
Two schools could be closed under options to tackle surplus places.
The meeting voted for the consultation process, due to end in September, to be halted and for a new one to run from 3 October to 15 December.
Officials are consulting on options as part of a plan to tackle surplus school places and under-used buildings.
Council leader Arnold Woolley, a independent, told the special meeting there was "significant excessive capacity" in the county's secondary schools and there were costs involved in maintaining school buildings.
He added: "The present flow of information has not created the necessary confidence in the minds of our public.
"In view of all that has occurred, we intend to take a step backward in order to reconsider how best to further consult."
Labour councillors who had called for the special meeting said the process had been poorly thought out, and had called for the consultation to be halted.
Previous protest
They said many parents, teachers and pupils were concerned that it was inappropriate for such an important process to be undertaken during the summer holidays.
Parents and pupils are angry about some of the options suggested in the proposals.
These include the possible closure of John Summers High School at Queensferry and the Argoed school at Mynydd Isa near Mold, which could see children educated in neighbouring towns.
About 1,000 people took part in a previous protest over the future of Argoed school.
There is also concern among Welsh-speaking parents about an idea for the Welsh-medium primary school in Holywell to become part of a new learning campus.
The campus would include the town's high school and three English-speaking primary schools.
A council spokesman had said there was no proposal to require any Welsh school to share resources with English-medium schools, and an option regarding the co-location of all schools in Holywell was "one of a number of different options currently the subject of consultation".
'Public confidence'
Following the meeting, council chief executive Colin Everett said the "mood of the meeting" was to reopen consultation on "the widest possible set of options with the fullest information available".
He said: "The council is acutely aware that public confidence in the early informal consultations is mixed and that we need to reconsider how best to reopen consultation with elected members, schools and other interested parties having more say in its design.
"Public consultation will not resume until October at the earliest. In the meantime, the planned consultation events are stood down."