Plans to make electricity from food waste in St Asaph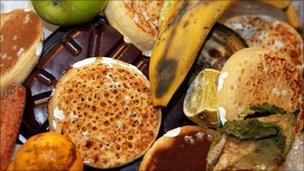 Three north Wales councils are joining forces to recycle 20,000 tonnes of food waste a year on a site in Denbighshire.
Denbighshire council bought a former abattoir in Waen, St Asaph, in 2009 which it earmarked as a potential site.
Planning permission is still to be secured for the £7.5m project which will generate electricity as part of the composting process.
But the site could start processing waste from households in Flintshire, Conwy and Denbighshire by 2013.
The consortium, led by Denbighshire council, has announced it has selected a preferred bidder to develop the 15-year project following a two-year evaluation process involving a number of bidders.
Organic waste specialists TEG Environmental, based in Chorley, Lancashire, and energy company Alkane Energy are to build the anaerobic digestion plant as part of the Welsh Government's programme for local authorities to recycle food waste into electricity and fertiliser.
It will contribute £1.4m towards the total cost of the project.
The remainder of the start-up costs will met by the three local authorities paying to have each counties' waste processed - a minimum of 11,000 tonnes annually - with the remaining waste coming from neighbouring authorities and businesses.
"Food waste management is a key priority," said environment minister John Griffiths.
"There is compelling evidence that anaerobic digestion is the best solution for treating unavoidable food waste."
The site is expected to generate power for about 2,000 homes as well as providing enough energy to run the site.
Denbighshire currently processes 2,700 tonnes of food waste each year from 26,000 households.
But it expected to recycle up to 5,000 tonnes annually when its collection service is extended to a total of 43,000 properties across the county from next year.
In 2010-11, Flintshire collected 1,648 tonnes from a pilot area, including Mold.
It rolled out its collection service to all homes in the county earlier this summer.
And so did Conwy which currently sends food waste collected from 50,000 homes to plants in Anglesey and Wrexham.
Related Internet Links
The BBC is not responsible for the content of external sites.