24-hour patrol as big hole opens near Rhes-y-Cae school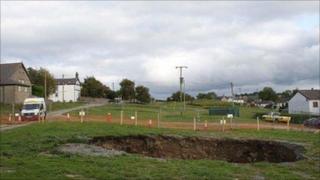 A hole about 40ft (12m) across has opened up on land next to a primary school in Flintshire.
Last year, a 23ft (7m) wide hole appeared on the same site near Ysgol Rhes-y-Cae on Halkyn Mountain.
It was capped but a hole almost twice the size has appeared. The school has asked parents and children to stay away from the area.
Landowner Grosvenor Estate has fenced it off and introduced 24-hour monitoring as specialists investigate.
A statement said expert advisers were trying to understand why the hole re-opened.
"Erosion or bad weather may be contributory factors but at this stage it's too early to say if some particular occurrence has caused the hole to open up further," it said.
The statement said that following expert advice and extensive surveying the first hole was covered with a purpose-made concrete cap in August 2010 constructed to industry best practice standards as adopted by the coal authority.
Since the latest incident, the company said it has been working with specialist consultants, local police and community, including the school and residents, to ensure public safety.
Halkyn councillor Colin Legg, who was alerted to the problem by a concerned resident on Sunday evening, said the area was known to contain disused mine shafts.
Head teacher Tracy Goodfellow said she had sent a letter home to parents advising them and children to stay away from the area.
Flintshire council said it has been liaising with the landowner, whose job it is to carry out remedial work.
Halkyn has a lead mining history which dates back centuries. Below ground is also an extensive cave system.
Mr Legg said other shafts have collapsed and opened up on Halkyn Common in the past.