Victorian kitchen found untouched at Cefn Park, Wrexham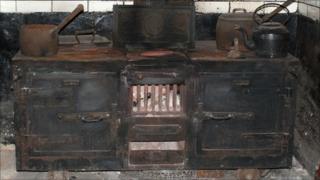 A couple are restoring a Victorian kitchen left untouched for a generation at a country estate.
Archie Graham-Palmer believes the basement kitchen with its double ranges at Wrexham's Cefn Park house was last used briefly during World War II.
His parents preferred to use the former butler's pantry on the ground floor as their kitchen while he was growing up.
But since taking over the house, Mr Graham-Palmer and his wife Philippa have decided to bring it back into use.
And when they started to prepare the room for renovation at the 19th Century home they found an array of Victorian utensils in the cupboards, along with a 1911 cook book.
The kitchen has been likened to a scene from ITV's Downton Abbey, which follows the life of a family and their servants during the early 1900s.
"It is from programmes like that that I know how the spit works which sits above the two ranges," said Mr Graham-Palmer.
He says it is thought the kitchen was installed around 1830 which was the time the house would have had a full complement of servants.
But it eventually became unused until World War II when the kitchen came back into brief use while cooking for people helping with the war effort.
Mr Graham-Palmer said: "I've never known anything cooked in here. It's a very big and beautiful room."
There are huge cupboards along the walls and at its centre is a 12ft (3.6m) table.