Offender scheme in Conwy and Denbighshire 'pays off'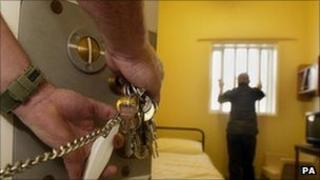 A project to cut down on offenders falling back into crime is paying off, says North Wales Police.
Arrest rates have dropped 68% among 30 people who since April have been offered help in areas ranging from drugs and alcohol to debt and housing.
A report to the police authority says in cash terms there has been a £71,000 "saving to society," although the true figure is said to be higher.
The project in Conwy and Denbighshire aims to help about 50 offenders.
Called '8Ways: Change your Life', a team including police and probation officers - alongside other specialists - work with offenders who persistently cause damage and nuisance to the community.
It offers them help in eight areas:
Drugs and alcohol
Accommodation
Children and families,
Finance, benefit and debt
Mental and physical health
Attitudes and behaviour
Education and training
Employment
'Fewer victims'
Leading the team, Sgt Jonathon Hill said: "The unit ensures that offenders requiring help with drugs or alcohol are engaging with the relevant agencies and are complying with drug and alcohol testing, thereby reducing any dependencies."
He says in the report that officers work closely with local authority housing and homeless departments to ensure suitable accommodation is found, as well as helping offenders to access benefits they are entitled to.
He said the aim of the pilot was to reduce both the arrest rate and the number of convictions by 100.
Figures to the beginning of September show the 30 offenders could have been expected to be convicted of 40 offences. However, current rates show nine convictions - with four currently pending - giving a reduction of 77% or 31 fewer crimes, and "more importantly 31 fewer victims".
The report goes on to say that an examination of the offending behaviour of the individuals over the past year identified that on average they were arrested seven times and convicted of six crimes.
The 8Ways clients say, on average, their offending rate is four times their conviction rate.