Ida Lawrence, 105, says exercise classes keep her young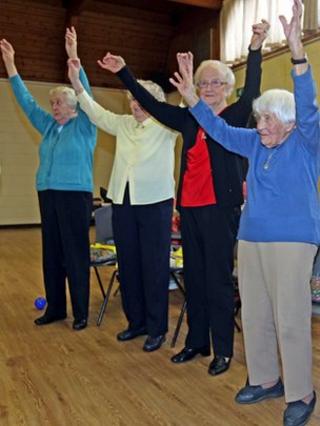 A woman aged 105 puts her good health down to taking part in regular exercise and "keeping her heart pumping a bit".
Ida Lawrence from Buckley, Flintshire, attends keep fit classes at a local community centre.
She gave up running when she was a "bit younger" and now prefers to work out without going "too over the top".
Mrs Lawrence says: "The trouble is I'm always in a hurry and never seem to have enough time for everything so I have to keep myself fit."
Born in Bournemouth in August 1906, Mrs Lawrence moved to Buckley in 1970 to be close to her daughter.
She has been described as an inspiration to other other members of the Low Impact Functional Training (LIFT) class at Mynydd Isa Community Centre.
'Important'
It is one of several held across Flintshire and Wrexham by volunteers from Age Concern North East Wales.
Chief executive Margaret Hanson said: "Ida Lawrence is inspirational and it just goes to show you are never too old to join in or do a little bit to help keep healthy and fit."
Mrs Lawrence said: "It's really important to stay fit and healthy and to keep active.
"Exercise is very important and of course you have to stay away from smoking and too much food and drink.
"I really enjoy the fitness sessions and you don't have to do too much if you don't want to.
"It's good to get your heart pumping a bit without going too over the top."