Talacre beach lighthouse goes on the market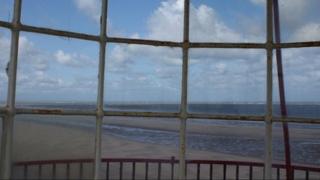 A historic beach lighthouse is up for sale with a price tag of £100,000.
Point of Ayr Lighthouse at Talacre, Flintshire, was last used in 1883 but it has since become a popular landmark with visitors to the dunes and nearby holiday park.
The only door to the three-storey stone building is accessible at low tide, and the top floor gives views over Liverpool Bay and the Dee estuary.
It stands 60ft (18m) high and has an 18ft (5.4m) diameter.
The redundant lighthouse was originally built in about 1776 by community leaders in Chester.
It was one of the earliest "lantern" lighthouses in Wales, according to the Royal Commission on the Ancient and Historical Monuments of Wales (RCAHMW).
Its records explain that the need for a lighthouse became a big concern after the loss of two ships in 1775 with the loss of lives and cargo.
The RCAHMW says nearby Hilbre Island, in the mouth of the Dee, had a light as far back as the early 1200s serving medieval Chester. The Earl of Chester paid for its upkeep.
In the early 1820s the tower was partially rebuilt around the time ownership passed to Trinity House, the General Lighthouse Authority (GLA) for England, Wales, the Channel Islands and Gibraltar.
It continued to shine until 1883 when it was superseded by the Dee Light-Ship, a vessel permanently moored with beacons acting as navigational aids.
Prior to being taken out of service, the lighthouse displayed two lights; one shining out on Liverpool Bay towards Llandudno and another shining up the Dee estuary.
Inside the lighthouse there are three floors with wooden stairs leading to the next level.
On each floor there is a window giving views over the sprawling beach and sanding dunes which have encroached further inland over the centuries.
A brochure produced by the estate agents dealing with the sale says the building has scope for residential use, but also points out that no feasibility studies have been carried out.
On the balcony stands a 7ft tall (2m) sculpture of a lighthouse keeper made from highly-polished stainless steel.
Last year, the exterior was painted by a climber who abseiled from the tower to carry out the work.