1970s Flint maisonettes to make way for redevelopment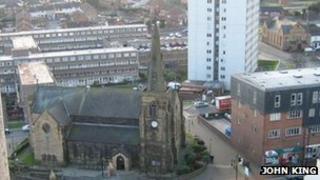 More details have emerged about plans to demolish 240 flats as part of a multimillion-pound redevelopment of Flint town centre.
Flattening the 1970s maisonettes could make way for a mix of social housing, retail and leisure space on the same site.
Flintshire council housing chief Clare Budden said tenants were being told the properties will be demolished.
"These are exciting plans which could transform Flint," she said.
Consultants have been working on a "masterplan" for the town and looking at utilising the same space for a mix of housing, retail and leisure.
Residents were consulted earlier this year and the result of their feedback are due to be heard by councillors later this month.
'Reluctant to move'
Councillors will then need to ratify the proposals before the project can move forward.
But Flint councillor Alex Aldridge is hopeful the plans first mooted to demolish the flats in 2003 will finally be agreed.
He called the maisonettes a "straitjacket", saying they have restricted development around the town over the years even though they were built with the best intentions.
He hopes their their removal would pave the way for other developments such as improving traffic flows.
Under the plans, part of the council-owned land would be sold for development to finance other parts of the projects with a mix of social housing and other community facilities.
"This could bring huge benefits to the town and could bring new investment," said Mrs Budden.
"We have weighed this up very seriously."
But not everyone will be glad to see the maisonettes flattened.
"There are some people who have lived there for 40 years who are elderly and are reluctant to move home," she said.
"They are not homes fit for the 21st Century. It is time for a radical change."
The separate tower blocks in Flint will not be affected by the plans which would require tenants in the maisonettes to move to other properties.
Meanwhile, Flintshire's 7,500 council tenants are also being consulted over the possible transfer of ownership of homes to a social landlord.
Residents have been told the intention is to flatten the maisonettes regardless of the outcome of the consultation.