£10m to demolish homes around Aquarium Street, Rhyl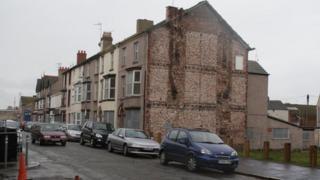 About 30 homes in two Rhyl streets may be bought and flattened by Denbighshire council to create a new green.
A total of £10m has been earmarked for the regeneration project which includes new housing while improving others.
The plans centre on demolishing houses between Gronant Street and Aquarium Street.
The authority hopes to buy the properties by avoiding compulsory purchases, but not everyone is happy with the plans.
BBC Wales spoke to one resident, a local businessman and a property manager for a local landlord about the plans and they all raised concerns.
But a statement issued by the council said consultations were continuing within the community about the plans which it described as "great news for the town".
One man who manages 10 properties housing tenants in Rhyl, acknowledged the authority was trying to improve the seaside resort but said the money should be used to improve existing properties.
"It is going to put a lot of strain on housing," he said referring to the planned demolitions.
"You have families in accommodation to small for their needs and the only way to free up bigger property is by making them into flats."
One resident living in an affected property said he thought he had put down roots for the next 20 years.
"Why do we need to relocate when this is what we want?" said the man, who did not want to be named.
Another man, a businessman, said: "I don't know what's going on."
He said he was concerned his property could be demolished, although he has not been formally notified.
"I would be happy for them to buy me out providing they find me somewhere else," he said.
Some of the properties have already been bought and are empty and boarded-up.
Demolition work has already started at one end of Aquarium Street, which is part of a wider plan to rejuvenate parts of Rhyl regarded as run down.
The Welsh government has made the money available for the project, which is being co-ordinated by the council and social housing group, Pennaf, based at St Asaph.
The group will arrange consultation with local residents to decide on communal facilities within the new space.
"As well as creating green space, work will also take place to improve the standard of properties," said councillor David Thomas, Denbighshire's cabinet lead member with responsibility for regeneration.
"The proposed plan will radically change the look and feel of the area and will hopefully be a catalyst to boosting the confidence of regeneration in Rhyl."
Vale of Clwyd AM Ann Jones said she was delighted the funding had been secured to "boost the regeneration effort in west Rhyl".
Local councillor Ian Armstrong described the project as "fantastic", and a lot of the boarded-up properties, some of which he described as HMOs - houses in multiple occupation - had been in a poor state for some time.
He said some tenants had already been moved to alternative accommodation.