Hafod Quarry landfill appeal bid lost at High Court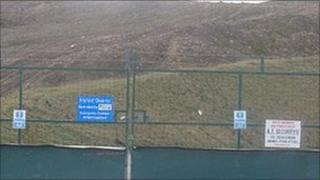 Environmental campaigners have lost a legal battle to limit the life-span of a landfill site near their homes in Wrexham.
Hafod Environmental Group has been fighting for years to overturn a change in planning consent allowing tipping in Johnstown for a further 35 years.
But they lost their legal appeal at the High Court in Cardiff on Thursday.
Landfill began at Hafod Quarry in 2006, and the group wanted to reduce its lifespan to about five years.
Campaigners raised tens of thousands of pounds to mount their legal fight.
Changed hands
"We have come to the end now. I think that's it," said group chairman Pauline Smout.
The dispute has not involved the company currently running the landfill as ownership of the site has changed hands since it began being used.
Rubbish from Wales and parts of England is buried at the site and a second separate landfill operates in nearby Ruabon.
"This other landfill at Hafod is only half a mile away and you think how much can one community take?" said Mrs Smout.
"People living between the two landfills potentially will live all their lives within a quarter of a mile of live landfill."