Organist's christmas carol in St Asaph Cathedral debut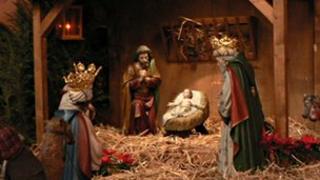 A new Christmas carol written and composed by St Asaph Cathedral's assistant organist is to get its first public performance.
'In a lowly stable's manger' was written for the St Asaph Choral Society by John Hosking.
The carol follows a journey through the Christmas story from the stable until the visit of the wise men.
The work will be premiered during a concert at St Asaph Cathedral at 19:30 GMT on Saturday.
"The tune for the carol came about very randomly quite late one night and I scribbled it down - then came the dilemma. There was a tune but no words and usually it's ideal to have it the other way around," said Mr Hosking.
"After working on the tune and perfecting that, some words started to spring to mind and I thought I would make it into a journey - travelling all the way through the Christmas story so it starts with the journey to the stable and leads up to the visit of the wise men."
The carol was first recorded in Bangor Cathedral by the Llannerch Singers and is available to hear online, so members of the St Asaph Choral Society have been able to learn it ahead of Saturday's concert.
"It's always a relief to get to the end of a composition because you can often get halfway through and be fairly happy but think 'gosh, where do I go next?'.
"So it's always nice to get to the end of the text and feel you've made quite a good conclusion to it.
"Generally people say they really like it so I'm pleased with how it's been received."